You are Cleopatra!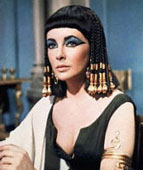 Beautiful and Charming. You are able to persuade anyone to do anything you would like, because of your hotness and charisma. You are an expert in gaining power over anyone you choose.


That's right! My hotness and charisma get me everything! Everything! Bwahahahaha! Um, yeah.
And
Here
is a link to a little video of the concert I was at Saturday night. It isn't my video and I'm not in the video, but you can see what I saw and where I was...you know, if you want to.