In the world of the completely pointless personality quiz, I have to believe that this result trumps the one I got about
three years ago.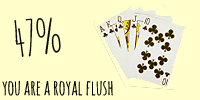 The Completely Pointless Personality Quiz

Actually, reading back in my blog, a LOT has changed! More than I'd normally realize. I don't read old posts all that often, as there is so much new stuff outside of my own head to read about. However an occasional stroll down memory lane can be useful. Going back, especially to my earliest posts on this particular blog, makes me appreciate where I am in my life right now. Plus, it gives me a renewed appreciation for the whole blogging thing.