It was a kooky day today, so here is a very quick Choose and Defend Wednesday post for you! Had a quick brainstorm and just decided to offer up a couple of iconic cartoon critters for you to peruse.
Scooby Doo
OR
Snoopy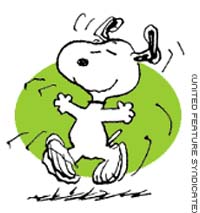 All you have to do is Choose who you'd prefer as your own loyal canine companion. Then tell us why. Choose and Defend!
Not too deep...but I bet you can bring some depth to it. Thanks for participating. It is one of the high points of my week, seeing what you have to say.